End Of Tenancy Cleaning London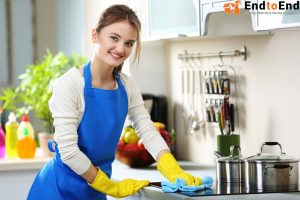 Your bridge between homes.
Moving home in London? Any house move is an exciting time, but also a stressful one, with your days suddenly full of new to-do lists. And the packing, relocating and unpacking of your belongings. And the disposal of rubbish that seems to appear from nowhere during a house move. Oh - and did you remember to do the laundry? Not to mention fully clean the home you are leaving so you get your deposit back from your agent or landlord.
For many people, moving home is one of the more stressful events in life. You're uprooting from a home you know, to a home you don't know. The logistics of a house-move can feel overwhelming and become a source of anxiety.
At times like these it's important to take time for yourself and not to spread yourself too thin. By outsourcing your house cleaning to us, you'll save time, and take a weight off your mind.
Established nearly 14 years ago, End of Tenancy Cleaning London offer an unparalleled cleaning service for houses, homes, apartments, flats, AirBnBs and so on. Everyday we proudly leave residential properties all around London spotlessly clean for people like you. Our Testimonials prove how happy our clients are.
In addition to cleaning, we also offer a pick and mix of other services to help you move home in London. From packing your belongings to storing them - or relocating them to your new home. From the disposal of rubbish to doing your dry cleaning and laundry when you are not able to. All this, and more, can be coordinated through us – your one point of contact, making things efficient for you.
Choose End of Tenancy Cleaning London to be your house-moving partners - we make relocation easier for Londoners.
Who Is End Of Tenancy Cleaning For?
Our services are for anyone who needs domestic cleaning in London or wants to make their house-move easier!
Our cleaning services are perfect for people who don't want to waste time and energy cleaning their home at the end of their tenancy or lease in London.
Even if, in theory, you wouldn't mind doing the all the cleaning involved in a house-move yourself, maybe you simply can't get to it because of all the other pressures on your time.
After all, moving home is a busy time. Sometimes it is wiser to get help, rather than try to do everything yourself.
This is where End of Tenancy Cleaning London comes in.
We can suggest industry-standard lists of what should be cleaned at the end of your lease or tenancy, to keep your landlord or letting agent happy.
We also recognise your individuality, so offer you the opportunity to pick and choose exactly what you want cleaned.
We can clean the property you're leaving and – if you need - also the property you're moving into. On top of one-off cleaning, we are happy to provide a more regular cleaning service for you, so you have more free-time for yourself.
We offer Deals, and discounts when you book more than one service.
Book all your cleaning and house-move services through End to End Tenancy Cleaning London - and think of how much time and money you will save compared to going through separate companies.
Your cleaning objectives are our cleaning objectives.
For tenants in London, we ensure your security deposit is not withheld on cleanliness grounds at the end of your tenancy.
For landlords, letting agencies and AirBnB hosts in London - we guarantee that you will welcome new tenants into your properties with no worries about cleanliness.
We guarantee our standards of cleaning: we give you time to check the cleaning we've done at your property. In the rare event that we've overlooked something, we'll return for free to clean it.
Read our FAQ for lots more useful info.
What Advantage Does Your Cleaning Service Give Me?
Scrub, wipe, disinfect, descale, degrease, remove cobwebs, clean, dust, vacuum, mop, polish, wash inside, wash outside…
When you think about cleaning your property at the end of your lease in London, are you aware of all it entails?
Look at the example checklist below. We follow detailed cleaning checklists like this, to ensure the end-of-lease cleanliness expectations of landlords and agencies in London are met. Unless you're a professional cleaner yourself, with a van-load of equipment and the skill and speed that comes with years of cleaning experience, why even attempt such a big job?
You already have endless to-do lists related to your house move. Why add cleaning lists, in what is already a stressful time. Hand over your cleaning job to End of End Tenancy Cleaning and we'll take a weight off your mind. Because cleaning is not your speciality, but it is ours!
We have experienced professional cleaning teams located all around London. Our teams use specialist cleaning methods and professional-grade non-toxic cleaning products. The checklist below is an example of the domestic cleaning tasks they can complete for you at the end of your tenancy or lease.
KITCHEN CLEANING
Kitchen cupboards - clean inside & out
Oven - degrease & clean
Hob and/or grill - clean
Microwave & Toaster - clean
Dishwasher - wipe outer surfaces
Fridge & freezer - clean inside & out (please turn them off so they defrost before we arrive!)
Counter tops - dust & wipe
Floor - vacuum & mop
Sink - descale & clean
Window ledges (inside) - scrub
Windows - clean (inside)
Light fixtures, skirting boards, door frames, radiators - dust and clean
BATHROOMS & LAVATORIES/TOILET CLEANING
Floor & tiles - scrub & disinfect
Toilet sink & seat - scrub & disinfect
Bath tub, shower, sink - clean & descale
Cupboards, skirting boards, doors, door frames, lighting fixtures - wipe
Mirrors - clean
BEDROOMS, RECEPTION & LIVING ROOM CLEANING
Floor (wooden/vinyl) - vacuum & mop
Floors (carpeted areas) - vacuum
Mirrors & radiators - clean
Furniture & surfaces - dust & polish
Remove cobwebs
Windows - clean (inside)
Window sills, skirting boards, picture frames - dust & clean
Wardrobes - clean inside
Sockets & lighting fixtures - clean
Door frames & door knobs - clean
Picture frames - clean
HALLWAY & CORRIDOR CLEANING
Floor (wooden/vinyl) - vacuum & mop
Floors (carpeted areas) - vacuum
Walls & mirrors - clean
Skirting boards, doors, picture frames - wipe
Remove cobwebs

Tailor-made cleaning:
We appreciate that your cleaning job is personal to you and will cater to your unique needs. Therefore, you are welcome to pick and choose what you want done from the above, or give us your own priority cleaning list which we will follow. You can also choose from various add-ons, including:
Want to know more? Give us a call on 020 3404 5102 – our phones are on 24/7 to assist our clients.
How Do I Book A Cleaning Service?
Our professional cleaning teams operate across London 7 days a week.
However, please book well in advance so we can offer you the time and day that suits you best!
To book our cleaning and house-move services in London:
Call our customer service team on: 020 3404 5102
Or fill in our Contact Form
Our, use our Live Chat (click on the chat icon at the bottom-right of this page).
Our phone lines are on 24/7.
Our customer service team will chat with you about what services you need, and any optional add-ons you may require. They will answer any questions you have, and provide you with a free quote. Agree a date and starting time with us, then sit back and relax.
How Do You Make It So Easy?
We make it easy because cleaning is our speciality - it's what we invest our time and energy in.
We know the cleaning standards required by London's tenants, landlords, AirBnB hosts and letting agents also, so you don't need to think about it.
We make it easy for you, because we map our professional cleaning skills onto any list of cleaning priorities you give us. This means you get exactly what you want out of our cleaning service at the end of your tenancy or lease.
We make it easy for you - because where it might take you days to thoroughly clean your London accommodation when your rental period ends, our team will do it faster, freeing you up to focus on settling into your new home.
We make it easy for you - because you don't need to supply any cleaning products or equipment - we bring everything. Our cleaning teams use professional non-toxic products that are not available in normal retail stores, giving you the advantage of a more squeakily-clean result.
It's easy for you - because we have fully-equipped professional cleaning teams established all around London. So, no matter where you are resident in London, you can benefit from our end-of-tenancy cleaning services.
It's easy - because we are available for you 7 days a week, even on bank holidays.
For end-of tenancy / move-out cleaning jobs, we charge per job, not by hour. This means our cleaning team will stay as long as needed until the cleaning checklist is complete. Our teams, and any accidental damage, are insured, for your peace of mind.
We make it easy, because we offer additional services which we know are useful to Londoners who are moving home - including property removals, rubbish disposal, dry cleaning and laundry.
We recommend you read our Frequently Asked Questions for more answers to questions you may have.
Moving out? Move us in – we'll leave the property sparklingly clean!
End of Tenancy Cleaning Price List:
For cost guidelines, check out our Prices page.
Prices vary from job to job – depending on the size of your property, what is to be cleaned, whether you are booking a one-off service or regular cleaning, how many options you are booking, and whether you need add-ons in addition to standard packages.
From time to time, End of Tenancy Cleaning offers certain Deals and Special Offers.
Talk to our customer service agents about our Membership Programme – this earns you £3 off per hour for regular and one-off cleaning, 10% discount on other services and access to member-only promotions and offers.
We make payments easy - you can pay by card or bank transfer.
Call us on 020 3404 5102 today - or fill-in our contact form.
Prefer Live Chat? Ask any questions you have through our live chat - just click on the chat icon at bottom right of your screen.
The Day Of Cleaning
The day of cleaning works like this:
Our handpicked team of professional cleaners will arrive with you at the scheduled time and begin work straight away.
They will bring all the necessary cleaning products and equipment with them.
Each team usually comprises 2 or 3 cleaners. However, we may vary this according to the size of your property and the amount of work to be done.
What our cleaners need from you:
- Access to water for filling mop-buckets etc..
- Access to power sockets for vacuums and other equipment.
- to facilitate thorough cleaning of your fridge & freezer, please turn these off the day before your cleaning team is scheduled, so they defrost in advance.
- For move-out or move-in cleaning, any personal belongings should have been removed or packed and gathered somewhere. This gives our teams the space to clean thoroughly.
- If you need help packing and storing or moving your belongings between homes, we offer a Home Removals and storage service.
Our cleaning follows standard checklists of what is expected for domestic move-out cleaning. If you have written your own list of cleaning priorities, we will base our cleaning on that.
Ingrained Marks & Stains:
Worried about mucky marks on the walls or stubborn stains on the carpet that occurred during your tenancy? These may affect whether your landlord or agent returns your accommodation deposit.
If you want additional specialist cleaning, such as wall-spot cleaning, or deep Carpet & Upholstery Cleaning, these are discounted when booked at the same time as your end-of-lease clean. Exterior Window Cleaning is also available.
Call us on 020 3404 5102 to have a chat about add-ons and how we may be able to help you.
For tough stains or marks on fabrics, surfaces and walls, we will do our best to remove them using high-end equipment and professional techniques. However, if the damage is too ingrained it may not be possible to clean it and you will instead need to seek help from a handyman or decorator or discuss it with your landlord.
When the cleaning is complete, our team leader will give you a Job Completion Form, which allows you to show that the property has been professionally cleaned. The property is now ready for your inspection, and you can check you are happy with everything we have done.
Cleaning Quality - Guaranteed
A 48-hr (2 day) warranty on our cleaning service is included for free. So, if within 48 hours you notice that we have accidentally missed something, we will return to clean it for free.
If you need more time to inspect the cleaning we have done, an extended warranty of 168 hours (1 week), is available for an extra charge.
At the end of each cleaning visit, we give you a Job Completion Form. This allows you to demonstrate to your landlord or letting agency that you have had the property professional cleaned. Our aim is to ensure that you and the deposit-holder are happy with the cleanliness of the property, so you get your security deposit back in full.